Top 5 UI/UX Design Bootcamps in California in 2023
The difference between an app that's intuitive to use, and an app that's infuriating to use, is often because of the work UI/UX team behind it. UI/UX designers study user trends and graphic design to create user-friendly and attractive digital products. Every single app or website that you use was built with the help of a UI/UX designer, and because of this, UI/UX designers are in high demand today.
If you're interested in UI/UX design, there's no need to scour self-training manuals or start applying for colleges. A UI/UX design bootcamp can teach you all the tools necessary for a successful career. With flexible schedules, affordable payment plans, and an industry-focused curriculum, UI/UX design bootcamps have paved the way for thousands of future careers.
But how do you know which bootcamps are worth it? California has plenty of options, and it's hard to tell which ones rise above the others. We've researched the best UI/UX design bootcamps in California and broken each down so you can explore your options. Let's help you pick the right UI/UX design bootcamp for you!
Understanding UI/UX Design Bootcamps
UI/UX design bootcamps were created to address the growing demand for UI/UX designers. Aspiring UI/UX designers are looking for a highly focused curriculum that plunges them into real-world projects that they can add to a portfolio. A UI/UX design bootcamp does just that, expounding on both UI and UX to help students figure out which path is best for them. A UI/UX design bootcamp offers remote schooling, which allows more opportunities for those with tight schedules. Students can learn the basics of UI/UX design in as little as 12 weeks.
Not sure what the basic skills for UI/UX design are? A bootcamp will lay your foundation by focusing on the most marketable skills for the field. Those include:
Web design

User research

User interface design

Wireframing

Usability testing
All those skills, and more, can be learned at a UI/UX design bootcamp, and all under a scheduling model that suits your needs. A UI/UX design bootcamp allows students to choose between a more involved, full-time schedule of 50+ hours per week, or a slower pace, at roughly 25 hours per week. The part-time model stretches the course out into a longer, more relaxed structure.
UI/UX design bootcamps aren't all the same. You have options, and we'll help you find the right fit.
Comparison of Best UI/UX Design Bootcamps in California
There are dozens of UI/UX design bootcamps to choose from. That's why we've handpicked the best so you can select from only the top UI/UX design bootcamps in California.
University of Massachusetts Global
UMass Global's UI/UX Design Bootcamp offers some of the best resources for a UI/UX education with its curated curriculum designed to teach you the core principles, tools, and best practices of UI/UX design. This 100% online program will help you graduate with a robust portfolio compiled of real experience and a hands-on capstone project.
Rating
Course Report: 5.0
Niche: 4.5
Features
Get introduced to design tools

Learn about wireframing

Build high-fidelity mockups

1:1 mentoring and career support

Hands-on projects
Duration
9 months, 10 hours per week 
Price
$13,950, with a 15% discount if you pay upfront. UMass Global provides scholarships and other financing options as well.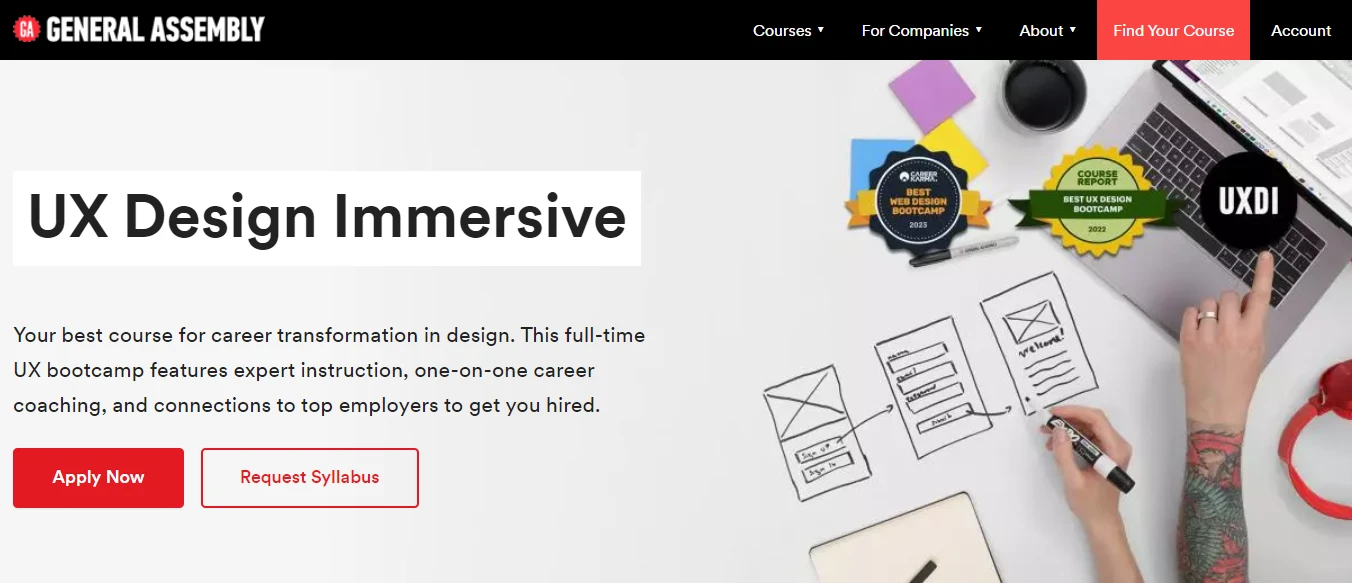 This immersive, full-time bootcamp features 1:1 mentoring, instruction from industry experts, and universal skills to solve real-world problems. General Assembly has helped 11K+ graduates find jobs, and they can help you too.
Rating
Course Report: 4.31
Features
UI/UX fundamentals and foundation

Design iteration and development

Accountability with career coaches

Exclusive networking opportunities

An industry-driven curriculum

Remote or online
Duration
12 weeks 
Price
The total cost is $16,450. General Assembly offers a $450 discount when you pay upfront, as well as loans and ISA opportunities.
With flexible scheduling, Thinkful's UI/UI Design Bootcamp includes both part-time and full-time courses. Thinkful's free, no-commitment beginner exercises let you try out their student platform.
Rating
Course Report: 4.54
Features
2 curriculum options: either part-time or full-time

Design your own tech product

1:1 support through mentorship and career services

On-demand technical coaching

Access to their Slack community
Duration
6 months at 20-25 hours per week (part-time), or 5 months at 50 hours per week (full-time)
Price
Part-time tuition costs $12,350 while full-time costs $14,823. Other payment options include month-to-month, deferred tuition, loans, and discounts for eligible individuals.
DevMountain's UX Design Bootcamp is another option for either fully online or remote learning.  The program prepares you for the field by teaching you about UI/UX design and research, prototyping, information architecture, and web/app design.
Rating
Course Report: 4.56
Features
Web and application design

Prototyping and visual design tools

The option to choose remote or in-person
Duration
16 weeks, part-time
Price
Devmountain's program costs $9,900 for both remote and in-person. Financing options include deferred loans, income share loans, and more.
If you're looking for hands-on projects to add to your portfolio, Noble Desktop's projects-based program rises to the occasion. Noble Desktop teaches UI/UX design fundamentals and shows students how to conduct their own user research and testing.
Rating
Course Report: 5.0
Features
Digital product design

Prototype building and testing

An online portfolio that can attract hiring managers

Resume-building help and career prep

The option to retake for free within the first year
Duration
24 weeks of evening classes, part-time 
Price
Noble Desktop offers a low price of only $3,495. Financing plans include 0% interest and other installment plans.
The Rise of UI/UX Design Bootcamps in California
California is home to the biggest tech companies in the world. Google, Apple, Meta, Visa, and more are housed in Silicon Valley. So new talent in UI/UX is always in need in this global center of technological innovation. UI/UX design bootcamps have sprouted all over the state to fill this gap.
Hiring managers aren't necessarily looking for four-year degrees—they're looking for the right skill set, which includes familiarity with Adobe XD, graphic design principles, user research, and web design. UI/UX design bootcamps were created to train students with those specific skills in mind.
Components of a Good UI/UX Design Bootcamp
We've researched the best UI/UX design bootcamps in California and came up with a list of all the must-haves of a great BootCamp.
UX Design Courses: A quality UI/UX bootcamp includes training on specific, high-priority topics in the field, such as the principles of graphic design, wireframing, and high-fidelity mockups. 
Adobe XD Skills: Adobe XD is one of the most common tools that UI/UX designers utilize. Hiring managers will want to see it on your resume, so it's important to find a bootcamp that highlights Adobe XD. UMass Global's UI/UX Design Bootcamp not only teaches Adobe XD—it also covers Sketch and Figma, two other popular tools in UI/UX design.
Hands-on Learning: Without any practice, you won't develop your skills. A great UI/UX design bootcamp should prioritize immersive projects with real-world applications. These show hiring managers that you're capable of working end-to-end on design projects.
Career Services: What good are your newfound skills if you can't land a job where you can use them? UI/UX design bootcamps should have a support team to help you with resume-building, mock interviews, networking, and the job hunt.
Knowing how to define your career goals is critical, especially because UI jobs aren't quite the same as UX jobs. Maybe you're more on the graphics side of design, or maybe your interests are in user research. It's important to communicate this to a career coach so that you can learn about the different career paths in the field, be that UX researcher or UI designer. UI/UX design is versatile, with plenty of careers to satisfy varying interests.
The Benefits of Online UI/UX Design Bootcamps
UI/UX design bootcamps are uniquely suited for an online environment. While some professions require you to go out into the field to test your knowledge, a UI/UX designer can build, design, and test digital products all from home. This advantage has led to the rise in online UI/UX design bootcamps, which offer countless benefits, such as learning accessibility and schedule flexibility.
UMass Global's UI/UX Design Bootcamp provides a great opportunity for online learning. With its 100% online learning model, you can study on your own time, and even finish the program early if you put in more hours. Students from all over can participate in California's vibrant tech scene through UMass Global's networking team, industry experts, and online community. Additionally, UMass Global's 1:1 mentorship cohort gives 24/7 accountability throughout the program, making sure you never feel isolated or unheard.
Preparing for a UI/UX Design Bootcamp
Excited to join a UI/UX design bootcamp but unsure if you're ready? Don't worry—we've got some helpful tips for making sure you're prepared.
Prerequisites: Any bootcamp should list the necessary prerequisites in order to enroll, if there are any at all. Most bootcamps require simply an eager mind for innovation and familiarity with a computer. The admissions office can help you figure out whether a particular bootcamp is a right fit for you.
Financing Options: A huge plus to UI/UX design bootcamps is their relative affordability (as compared to a college education) and their flexible financing options. On each bootcamp page, you can find a variety of payment plans. Bootcamps also offer affordable options, such as interest-free payments, ISAs, scholarships, and discounts to eligible individuals.
Resources: Apart from a bootcamp's FAQ page—which should have helpful tips on UI/UX design careers, average salaries, and what you can expect after graduation—another resource for helpful information is Course Report, which shows alumni reviews. There are many threads about UI/UX design bootcamps on Reddit, and even YouTube offers feedback videos on UI/UX design bootcamps.
Choosing the Best UI/UX Design Bootcamp for You
With so many UI/UX design bootcamps in California, it's important to pick a bootcamp suited to your personal interests and schedule needs. No two bootcamps are the same, and not all of them offer the same flexibility or financial assistance.
UMass Global's UI/UX Design Bootcamp offers a quality program with invaluable design projects, all with a 100% online format that lets you set your own pace. Their curriculum was crafted by industry experts who understand the current trends in UI/UX design. Constant mentor support keeps you motivated, and UMass Global's career coaching has led to successful post-grad careers. Its 5/5 rating on Course Report shows that UMass Global's UI/UX Design Bootcamp is among one of the best in California.